My maternal grandfather was a tractor mechanic and John Deere dealership owner in rural Saskatchewan.  In 1967 (before I was born) he bought a John Deere 112H, one of the first of a new breed of John Deere tractors, the garden tractor….  Because he was a tractor dealer, Grandpa had to have ALL the toys…  He bought a 46″ mower, a snow blower, a tiller, a cement mixer, a 110 volt generator and a front-end loader for it.
My first memories of my grandfather were riding with him on his John Deere.  So, from an early age, I was a John Deere guy.  When Grandpa passed away in 1987, his tractor came to my father…
The tractor ran when we got it in 1987, but time and neglect has taken its toll…
Two summers ago, I acquired a John Deere 160 to do snow removal around my house and neighbourhood.  It came with a blade, a snow blower, chains and a mower.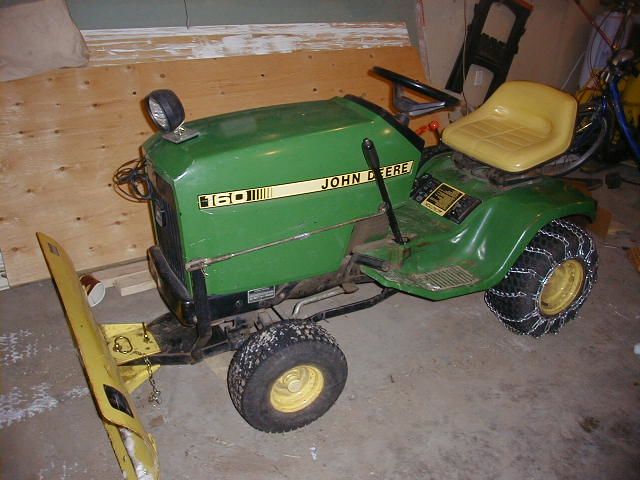 Over the past 2 years, I've learned HUGE amounts about tractor maintenance and care, both from having LittleTractor to play with AND by participating actively in MyTractorForum. While Littletractor has been a GREAT machine, I've always been lusting after Grandpa's John Deere 112. My wife agreed that, if I learned to take good care of LittleTractor, I could think about getting a vintage garden tractor to work on and restore…. Enter Ernie, my 1966 John Deere 110…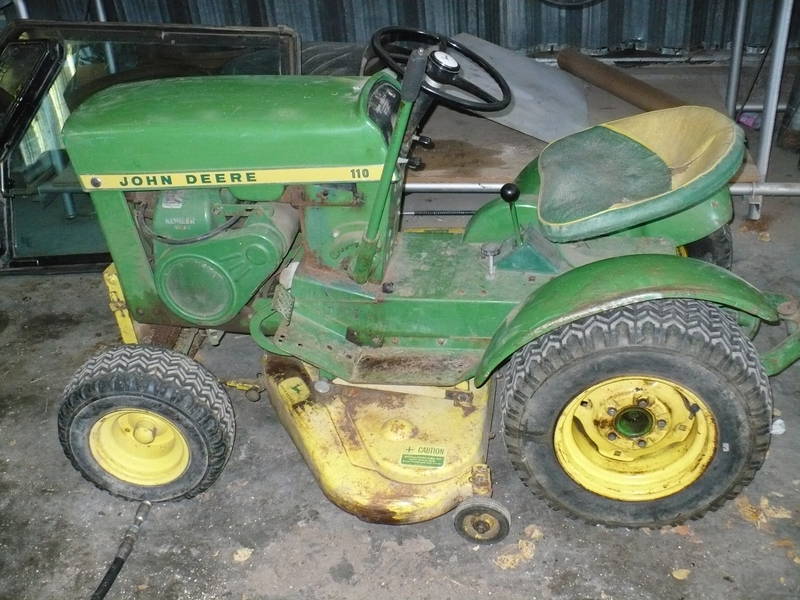 We found Ernie on Kijiji, outside of Lethbridge AB…  The John Deere 110 was the very first model of garden tractor they produced, but it shares all the attachments and MANY parts with the newer John Deere 112…  AND I just really like the look of the round-fender John Deere tractors.  Ernie came with the mower you see in the picture above, AND with the sleeve hitch you can see in the picture below…
Ernie runs fairly well, but needs some engine work.  He's going to be a "practice" tractor for me…Ernie is an investment in the future, as these old John Deere tractors are becoming rarer every day, PLUS all the implements for my grandfather's 112H will fit him (wherever THEY are)…
However, the tractor I REALLY want to get running is my grandfather's 112H.  In April of 2011, we moved the 112H (we call him Bror) from where he had been resting for the past 20 years in my parents back yard to my garage…  Here's the first part of THAT story, on MyTractorForum…
So, what the heck is THIS blog all about?  Well, its about the story of all three of these tractors, and the work it takes to get them and keep them running….  It's about preserving all this work for posterity, so that MY kids, and my kids kids know how much work it was to bring these tractors back…