Well, no, no tractors have been fixed YET…. Took today off (sort of) due to SUN!!!! 
FINALLY!
Well, SORT of took today off… Problem with being able to work from home is that the work follows you home… Got down to work on Project Omega by about 9:15 or so, once I'd taken care of some email work, went hard til 11:30 when I had to digress to join LTGal and LTBabe up at the office for our yearly Employee Appreciation Picnic… Little bit of wandering around with LTBabe while LTGal stalked some vintage bikes she'd seen, then back at 'er… well, except for that break to help LTGal get her handgrips off her handlebars with the air compressor and the air gun/ball-filler needle (did you know, if you want to take handgrips off a bike, crank your compressor up to 110 psi, throw the ball-filler needle on the air gun and slide it under the edge of the hand grip. Takes them off TOTALLY slickly!)… A break for supper and tucking in LTBabe, then out to do a bit more slogging… And here's where I got to….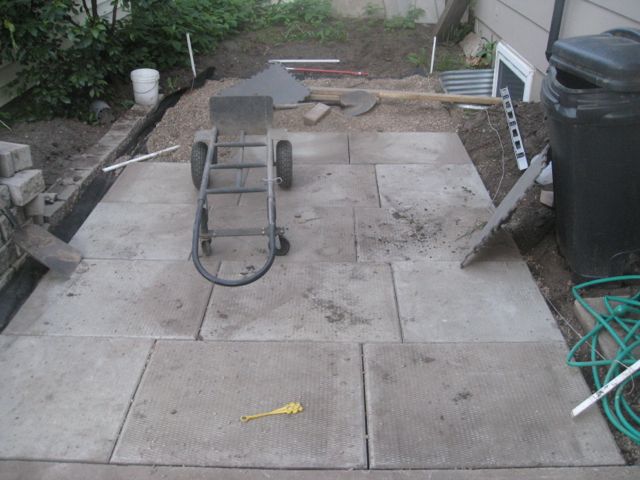 Kinda stopped now, as:
I'm out of 24 x 24's and can't go out to get them tonight 'cause LTGal is out, LTBabe is sleeping, and Kidlet #1 is out on a bike ride.
I'm losing the light.
and the mosquitoes are soon gonna carry me away.
So more pavers tomorrow evening hopefully… Then if there's time on the weekend, I go get Wally from Greensail's place, swap out a non CC-filled set of rears so that I can get Wally on and off the trailer AND he doesn't leak all over the nice new patio… MIGHT not be time, as LTGal has to study for some training she's doing at work in a couple weeks, and that might take all weekend…
Bit of a hitch in the restoration plans tho, I thought LTGal knew I was gonna try to have both Cranky and Wally on the patio so that I had everybody together in one place… That wasn't what SHE thought. I can understand, she doesn't want Cranky all torn apart where LTBabe could get hurt on him.. Well, maybe Cranky gets torn apart out at my dad's warehouse then, and brought in "as needed", starting with the electrical which I might need for Wally.
So, three more rows of pavers… Its been a big job, because I've been relocating the 24×30's from out in front of our house, where they've been collecting weeds and dirt for the past 10 years out by the street… So not only do I have to lay them down in the back, I have to excavate them from the front and horf them all the way around to the back. Thank goodness for wheelers!