Well, he's gotten kinda short shrift, him being the first ANTIQUE tractor I have, AND the closest of the bunch to being a drive-able machine… So, with the permission of LTGal, I arranged to do a little something for Ernie to make him feel not-so-left-out… Spent the past couple days dropping the oil out of him, dropping the gear oil out, oiling him up and lubing him so he's almost ready to drive… All of that work was in preparation for THIS!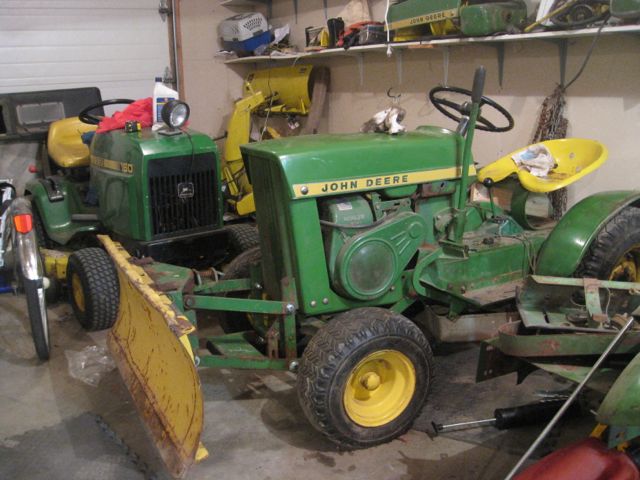 I spent the whole late evening figuring out how to put this #42 blade on! Its a bit of a puzzler without a manual, but I figure I got it! So first, the mount…
Initially I figured it would need a draft rod to go across the mount, so I picked up a piece of 1/2″ threaded rod…
However, turns out that was not the case… I DID however, need some 3/8″ fine threaded rod to make the lift rod out of… Thanks to rhenning's post in 2011 on MTF, I was able to get the length, and figure out that I could steal two clevis' off Cranky to save myself some big bux on a lift rod…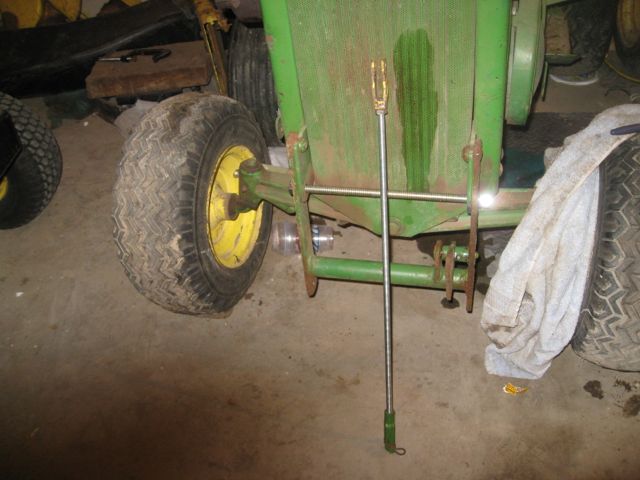 I'm pretty sure I got the lift link oriented right…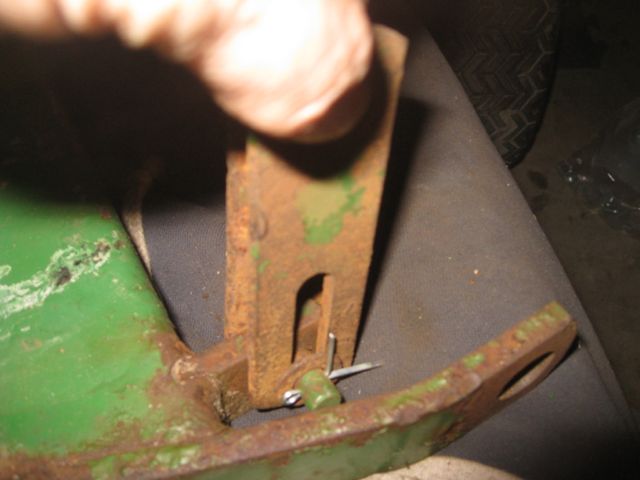 and here's the frame and the mount with the top arms attached…
I'm just not totally sure about the braces… Here's the left-hand one, which I THINK I've got mounted right…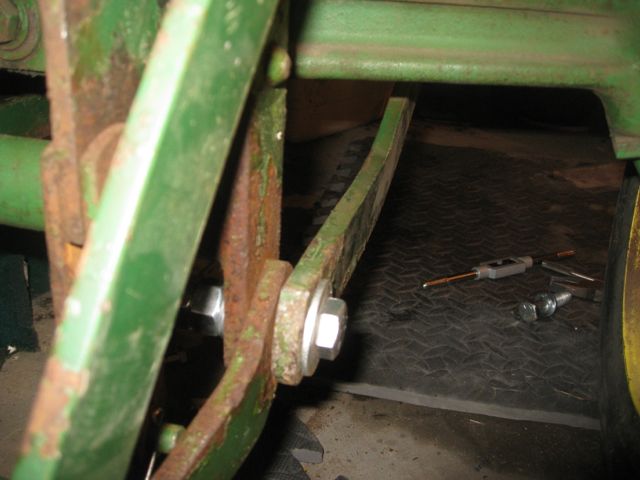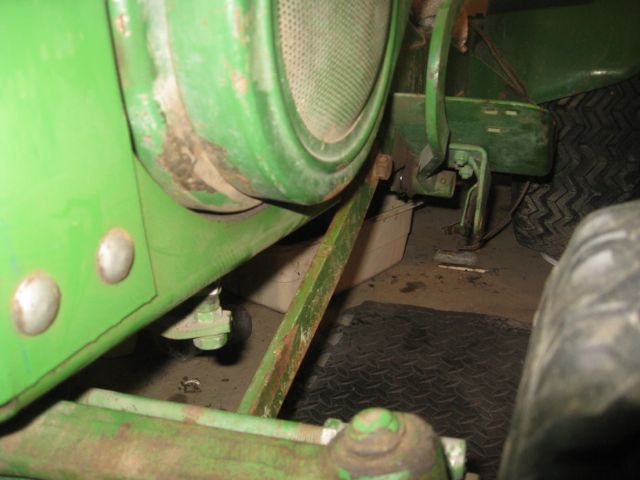 But the right one has that little curve in it, so that it can clear the mule drive on the tractor I'm assuming… But the only way I could get it to fit was to bolt it to the INSIDE of the mount…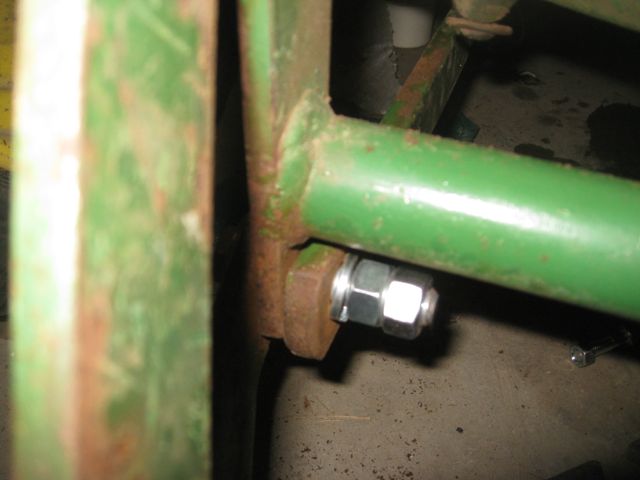 So then I threw the gosh-darned heavy blade onto my skidoo dolly and rolled it over to the mount…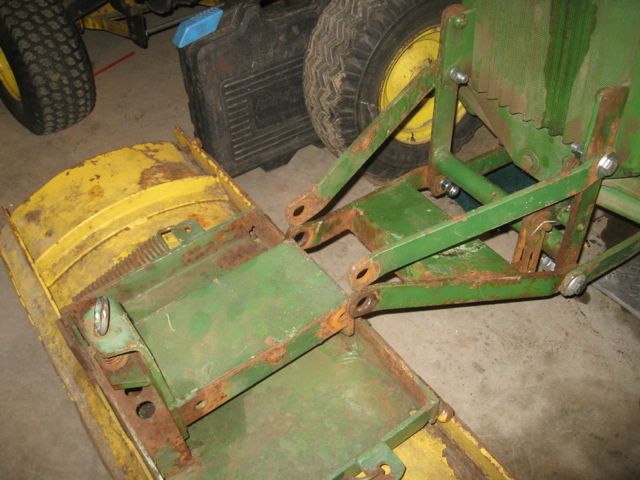 got the bottom mount points hooked up,
then flipped the blade up and did up the top arms, and voila!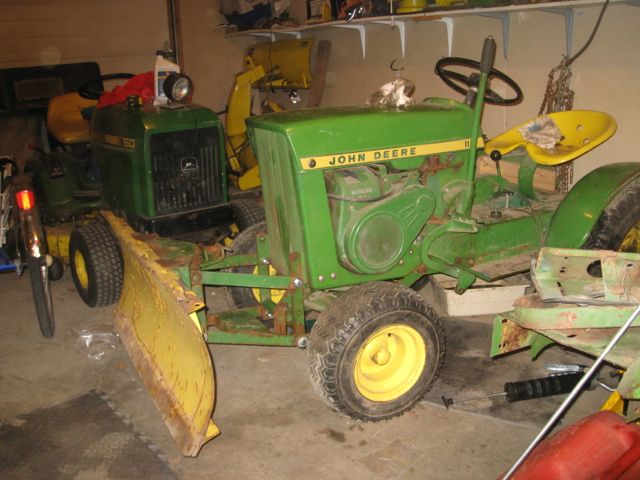 But boy I'll tell ya, I'm sure glad Cranky gave up his helper spring, 'cuz holy cow that blade is heavy! Even WITH the helper spring! Next up is getting carriage bolts for the wheel weights, mounting them up, bashing the rust off the chains and putting them on, possibly filling the tires with windshield washer fluid, and taking Ernie for a spin… Oh, and finding a slightly smaller clevis pin and hairpin clip for the lift rod, as I have a bolt in there right now… Oh, and 2 2″x1/2″ bolts for the brace mount points…
The only thing that worries me, as I practice getting on and off Ernie, wow he's a monster of a machine compared to LittleTractor! I hope I can manage him! Well, slow and careful until I get the feel of him, I guess!