Whoo hoo! I've been constantly thinking, I should replace the steering wheel on Bror at some point… Beating on it to try to take it off, in addition to the wonderful shape its in, means its NOT particularly nice…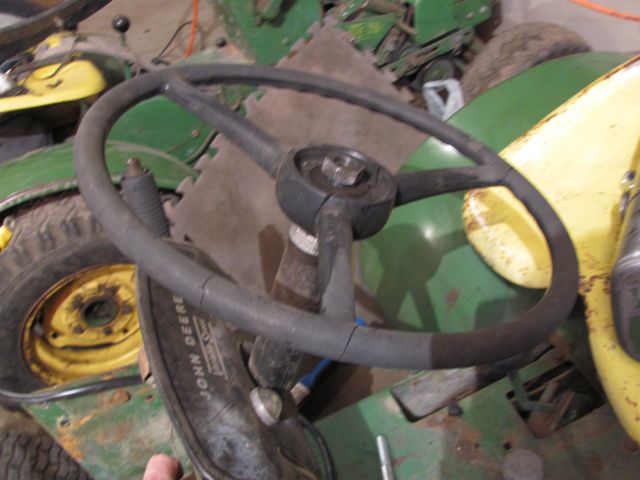 So, I ordered two steering wheels off eBay from a guy in Wisconsin. Here THEY are!
In REALLY good shape (except for the dings where I think the speedball was)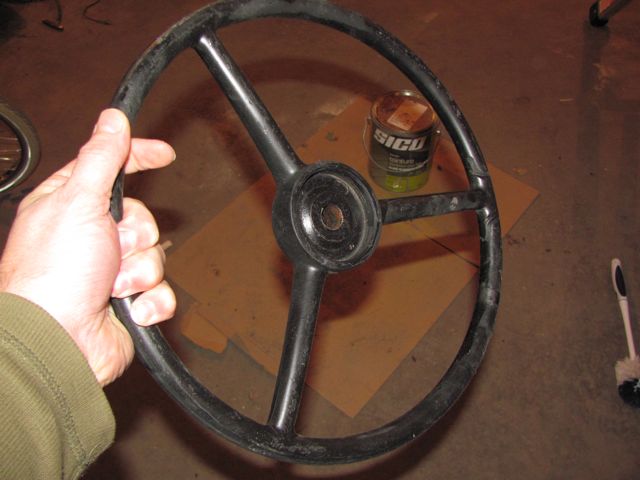 In not-as-good shape but repairable: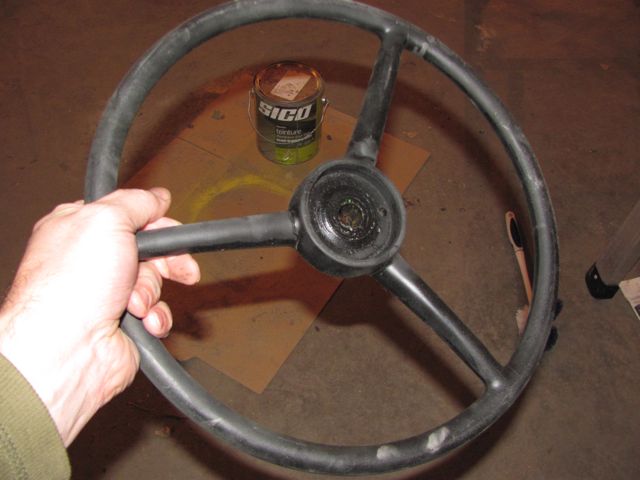 I do, however, have a cautionary tale for those of you either SHIPPING things TO Canada from the States or for any Canucks ordering things FROM the US… Many of you probably already know this…. Some of you might benefit from this…
I avoid shipping with UPS from the States, because I have, in the past, been charged HUGE "Brokerage fees". Unfortunately, I was NOT clear with the fellow from Wisconsin about my preferences for shippers….
I asked him to let me know who he was going to ship with, and how much it would be before he shipped. I did NOT say to him "DO NOT EVER ship with UPS, I REFUSE to deal with them!". He hadn't shipped by last Friday, so I dropped him a note…. Well his local shipping place was closed all week for Halloween, but he'd ship them as soon as he could…. WHAT? Um, okay, that MAYBE should have been a tipoff… But I emailed him back and said no hurry, I'm in no rush (steering wheels are a bit lower on the priority list than say, a new voltage regulator), get me the information when you can, ship them when you get a chance. Fast forward to last night. When we got home from supper, there was a delivery notice from UPS, saying we owed them $33 in "Brokerage fees"…. WTH?!?! The ITEM only cost $40, I already paid the guy $35 in shipping! AND I had no idea he was going to ship with UPS or that THEY were going to be my broker. So, .I read up on the Canadian Border Services Agency regulations last night on their website, UPS did NOT a) inform me that they were my broker, b) give me a breakdown of what their charges consisted of, or c) give me the option to self-declare (ie, be my OWN broker, and pay the import taxes directly to the CBSA). I called the CBSA this morning, they said my import taxes should have probably been approximately $4.00. As I understand their regulations (which I did call to get clarified), if UPS let me self-declare, as my importer they would have to deliver my package to the CBSA office in my city, where I would go, fill out the paperwork, pay the taxes and take the item…. I phoned UPS and got put through to their brokerage office… Where I was told that if I wanted to self-declare, they would have to ship the item back to Winnipeg and I would have to pick it up from there. After I said that is NOT true according to the CBSA regulations, they decided they could rescind their "brokerage fee" THIS TIME and just let me pay the taxes. Which according to THEIR calculations are $2.52…. Ha! So, on the second delivery attempt, we gave them the $2.52 cheque, and they gave us the steering wheels….
So, moral of the story, know your rights and responsibilities as an importer! It will save you money and prevent you from being taken advantage of!