Wow, yes, today was crazy busy, got a LOT done… We started out with LTGal getting a notice from someone on our local Freecycle who was getting rid of a "Flat-Screen TV", which we were all over, until the person called us and I said, "My wife will be right over to get it," and the lady said "Well, she should bring someone to help her lift it". Uh oh… Well, LTGal and Kidlet #1 went ANYWAY (since Kidlet #1 is the one who wants the TV room)… It turned out to be, just as I suspected, the 1980s version of the "Flat Screen", which was a CRT TV with a MASSIVE front plate of glass with optics built in, thereby making the front of the TV, um, flat. So, being good citizens, and realizing that the older lady whose TV it WAS would NOT have been able to get rid of it any other way, they took it anyway… straight to the recyclers.
In the meantime, LTBabe and I laid more flooring and dismantled the cruddy olt tin shelves… Well, actually, LTBabe watched Max and Ruby on Netflix, and I did the rest… This afternoon, when Kidlet #2 was dropped off from her sleepover, I, with great cunning, said "Sure, why don't you have your friend stay over at OUR place tonight!", and then LTGal and I put them to work hauling and demolishing and minding LTBabe and (of course) ripping apart hard drives… The other dad thought that was a HECK of a good idea! No, seriously, he did! He even took a big batch of the strapping that LTGal had pulled down this morning to burn in his fireplace (its CERTAINLY well seasoned, and comes with bonus cobwebs for extra flammability). I have to say, tho, I'm pretty dang lucky, the kids even made us supper!
Okay, okay, onto the pictures… First, some comparison shots taken from the same vantage point as my first set on Day 1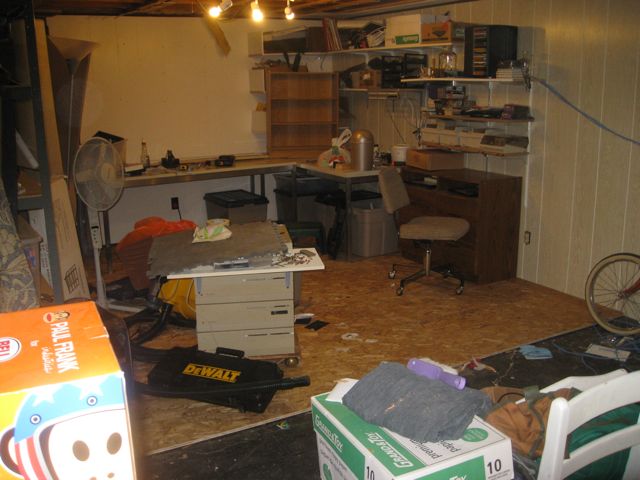 Lotsa change here…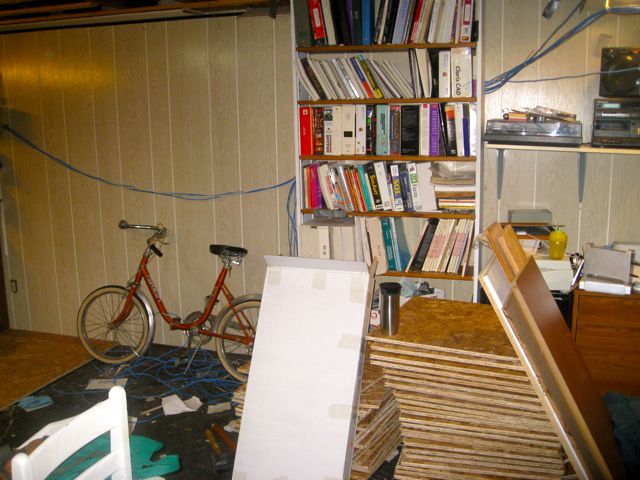 And here… Losing a whole desk really brings out the bike in the room!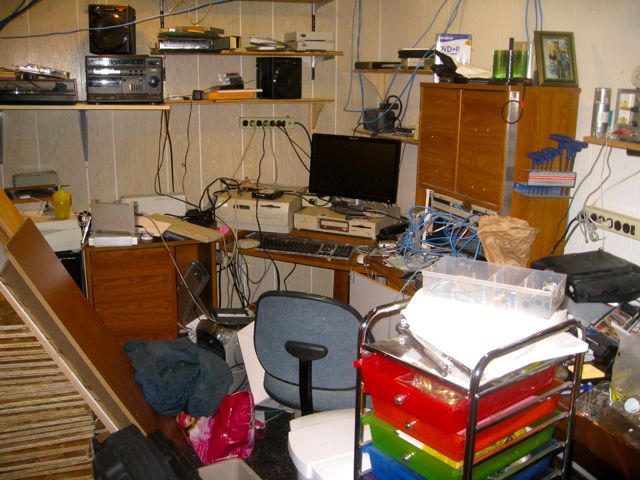 Hmmm… not much change here…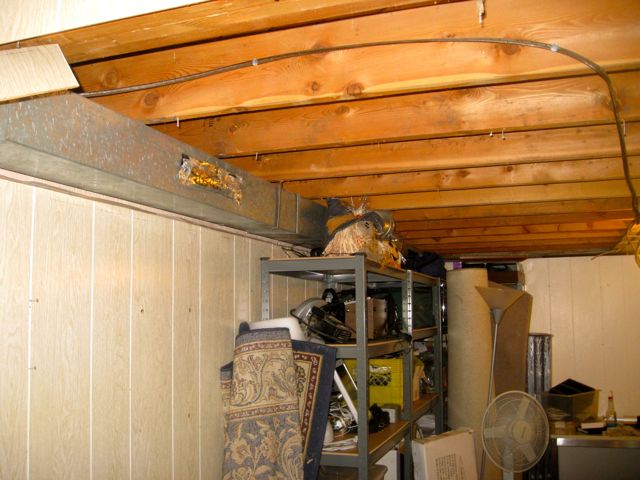 LTGal and I and Mr. Wrecking Bar got all the framing from around the ductwork cleared, and LTGal made great progress on the strapping on the ceiling.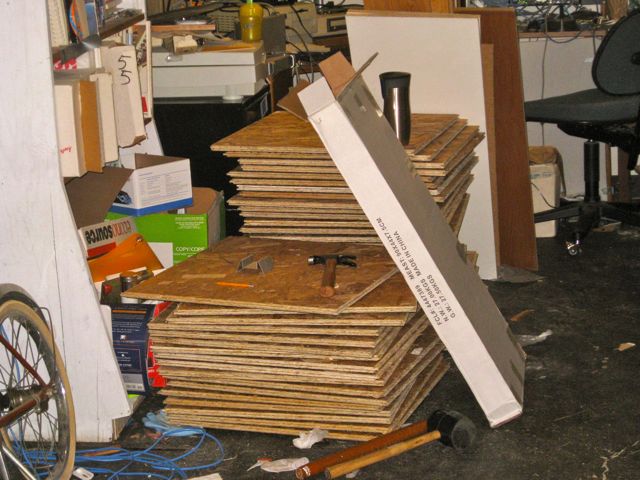 Got a fair bit of subfloor to put down yet, tho…
Next steps, well, finishing up my desk so I can start migrating computers over… Running ethernet and telephone through the joists to the far end of the basement too… Getting the still messy end all sorted and purged and cleaned out…
Of course, its snowed, so now I gotta take some time off from renos to get some seat time…