After a 2-day bout of food poisoning 
 that REALLY interfered with my work in the basement, I'm back at cleaning it up… So, some update pics…First of all… the OMEGAMAGNET ("BUH BA BUUUUUUUH!)!!!
Made from nearly 30 old hard drives, the omegamagnet could possibly be the biggest threat to the stability of the Earth's magnetic field since…. just kidding!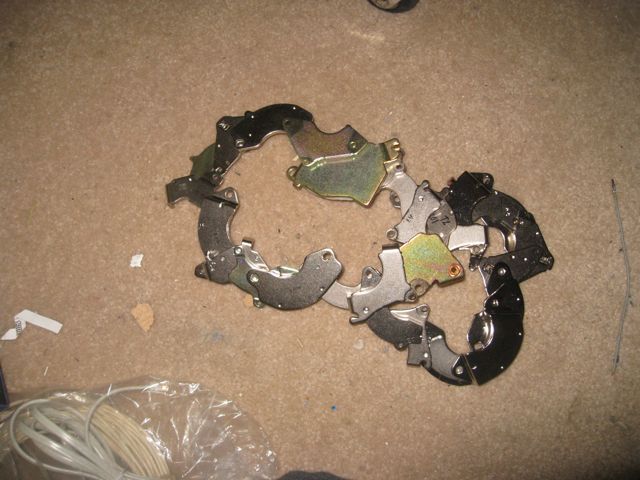 (kudos to Kidlet #1 for ripping apart that many hard drives)
So, by yesterday, I had the first new set of shelves up… And we had a couple of pieces of subfloor left over from our previous renos, so LTGal suggested throwing them under the shelf.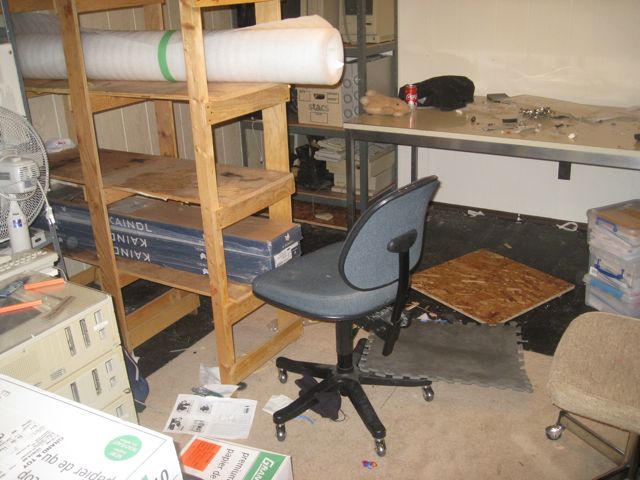 This is a product called Dri-Core, basically particle board with a corrugated plastic sheeting on the bottom, it serves as subfloor AND protects your subfloor from limited amounts of damp (keeps the wood from contacting the concrete). Comes in 2×2 tung and groove sheets that you click (well, bang) together… Not cheap, but a lot easier for us novices to lay down than 4×8 full subflooring… And it has a good r value.
So, of course the talk was then, well, how about the rest of the floor? Quick check with Home Depot, and the Dri-Core was on sale! So LTGal ran out and picked up enough to do another couple rows…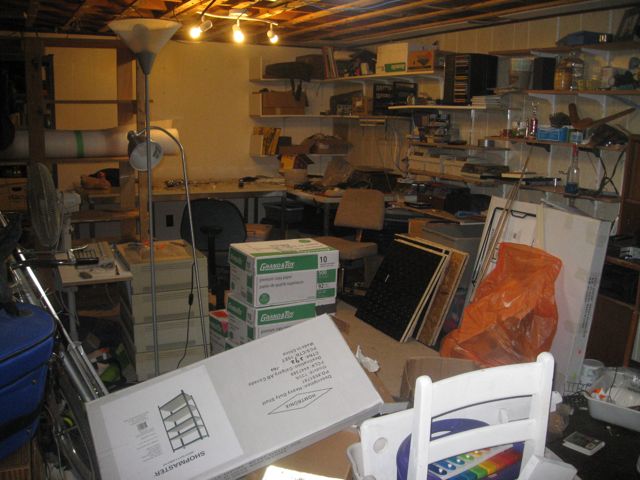 This morning was dump run #1, as we were starting to have trouble getting into and out of the back door…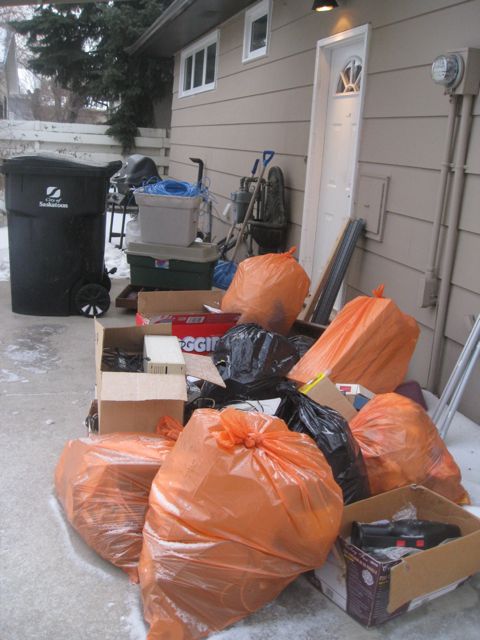 Turned out to only be 80 kilos worth of dump stuff, so it musta all been fairly fluffy… Well, plus the 4 computers and two boxes of various computer-guts that went to one recycling depot, AND the two large Roughneck totes of cables that went to the other…. Turns out all those years of cables netted me a cool $44.50, for 90 lbs of cabling… Then I got home and found the OTHER box I'd forgotten! DOH! Well, I guess those are "seed cables" for the next trip…
This afternoon (since the sale was ending today, LTGal and I went out and picked up another 70 sheets of the subflooring… So back down I go now, to bash subfloor together!
More pics soon!