Sooo… I came up with a bit of a new plan. MrBeef from MTF was kind enough to ship me up his crankshaft and .010 over piston/rod, and so I took Cranky's block in to a local shop and got it bored out .010 over… AND the valve seats done… AND it got degreased! So, the full spa treatment! I was SUPPOSED to go pick it up today, so I drove down there and had a yak with them… Turns out, I shoulda pulled EVERYTHING off the block… I didn't, because one of the things I wanted them to do was my valve clearances. I knew enough to know that if they were going to grind the valve seats, the clearances would have to be checked and redone… So when I walked in, all the small bits (cam, springs, valves, governor, tappets) were in a box… So, I said "Oh, okay, well… Which tappet is intake and which is exhaust?"
"Doesn't matter, they're identical."
"Hmmmm… Well… The tech manual for this engine says to mark them when you take them out…"
"Well, they should be identical so lets take a look – Oh…"
Nope, they're not. One's about an eighth of an inch longer than the other…
"Well, when you put it back together you should be able to tell, when you go to check your valve clearances. You know you'll have to grind them, right?"
"Um, yeah, I guess that means you guys didn't check the valve clearances, then? All I've got is a bench grinder…"
"Oh. Nope, you gotta put them in a machine…"
So, Cranky's K gets to spend another day or two in the spa, getting its valves ground, but hopefully when they put it all back together to check the clearances, it'll be as close to perfect and ready to go as possible! Next step – rings/gaskets/seals and strapping things back together. Oh, and its BEAUTIFUL after the cleaning they did! I'll take some pics once its back, to show off how gorgeous it is! Perfectly machined valve seats, a crosshatching to DIE for in the cylinder, and everything so spotless even LTGal would touch it!
Only another 4-5 inches of snow to melt before I can get the tarp off Wally and start reassembly!
Getting closer every day!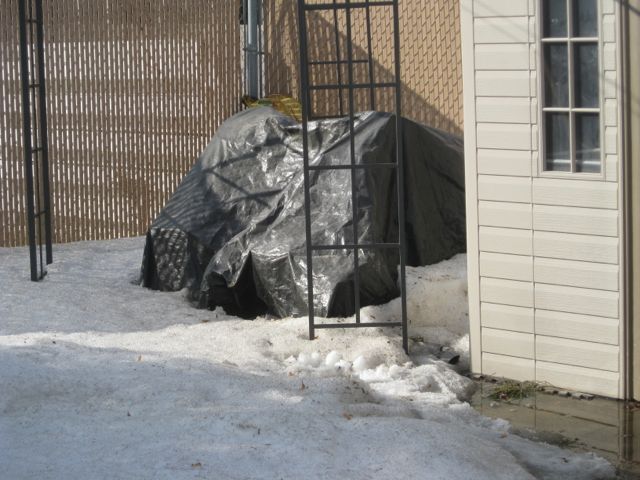 (I really hope that, when I finally pull that tarp off, those are actually still TRACTORS under there…. Not that some varmint has come, stolen away my tractors and replaced them with a big pile of, oh I dunno, acorns or something!).