So, I pressed on after the unfortunate flywheel incident…
Figured before I got much more strapped onto the engine, I'd better reinstall the points…. Here's the old ones, and the fibre rod, which I can't get a new one of, apparently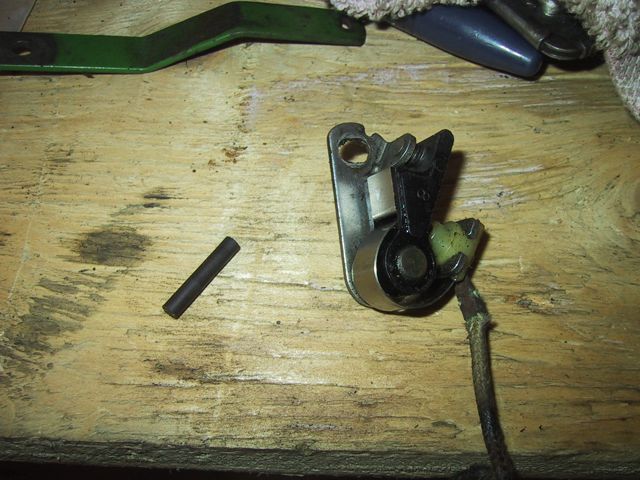 And the shiny NEW points (actually the Kohler set, but you can't tell!)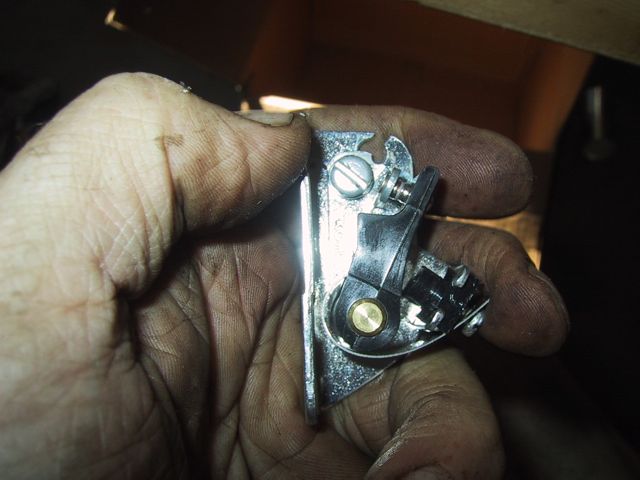 I strapped the OLD lead back on, which is probably a mistake, but I couldn't get a replacement from Deere… However, I'm open to suggestions about what kind of weather-proof, durable wire I could use to replace the old fabric and rubber insulated wire…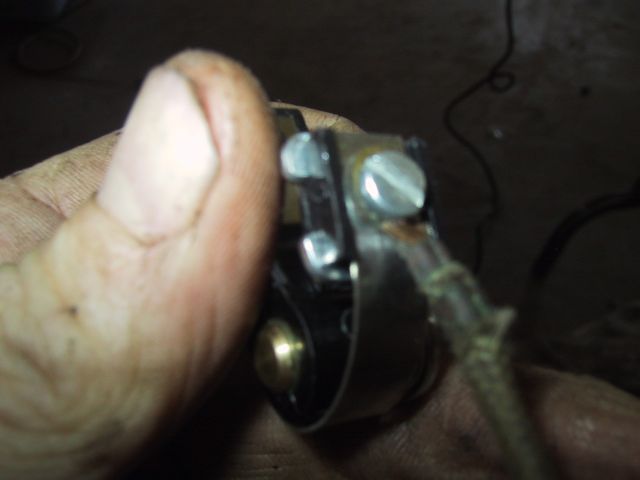 Figured I'd better do the gapping while I've got the engine out and easily accessible… 0.020, just like the manual says!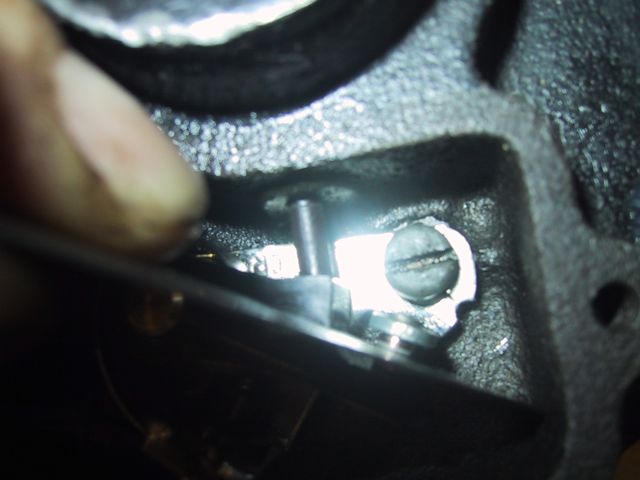 All set to get the ignition system hooked up!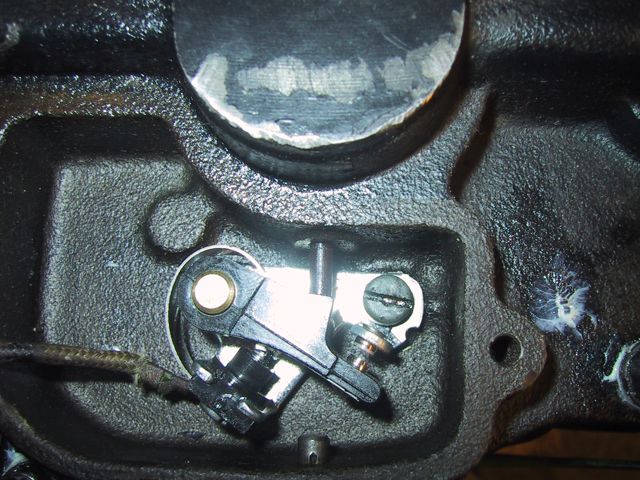 Got the lower governor rod cleaned up and installed,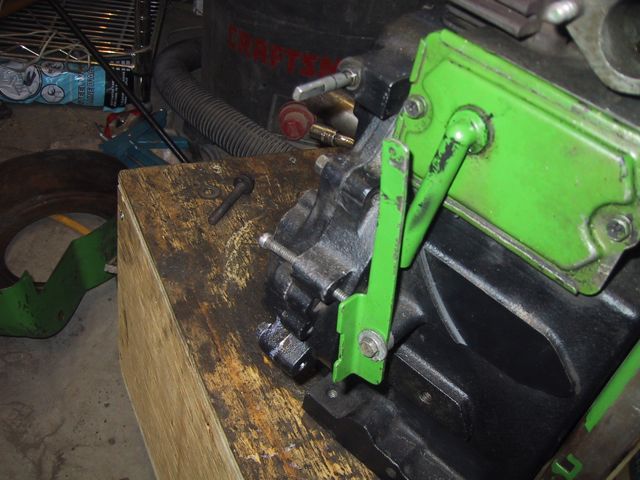 and the rest of it…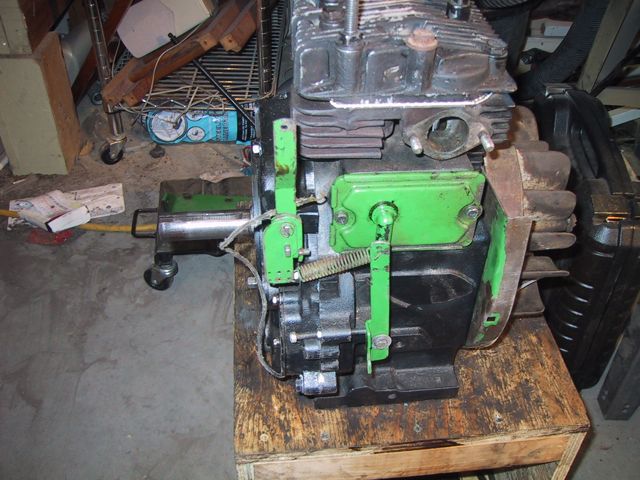 The FIRST carb gasket back in…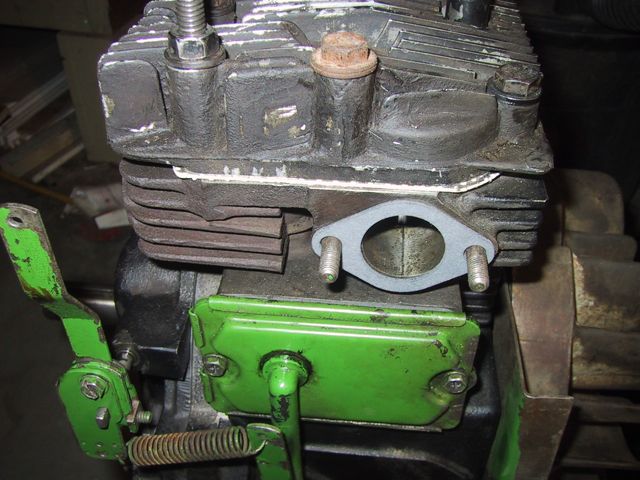 The heat shield (far cleaner than before!) and the second carb gasket
(here's before)

(and after)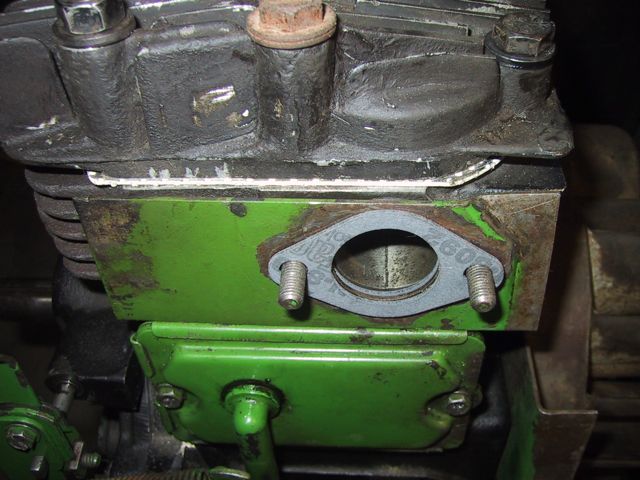 The super-clean carb back in… (didya notice, I found the RIGHT governor spring? 
)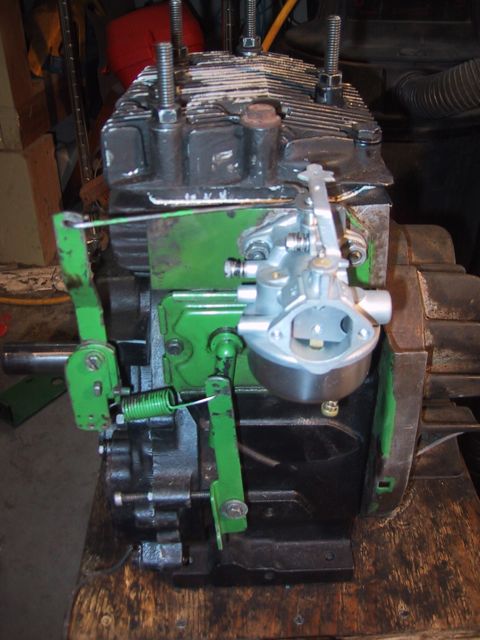 And then I strapped the HEAVY generator back on…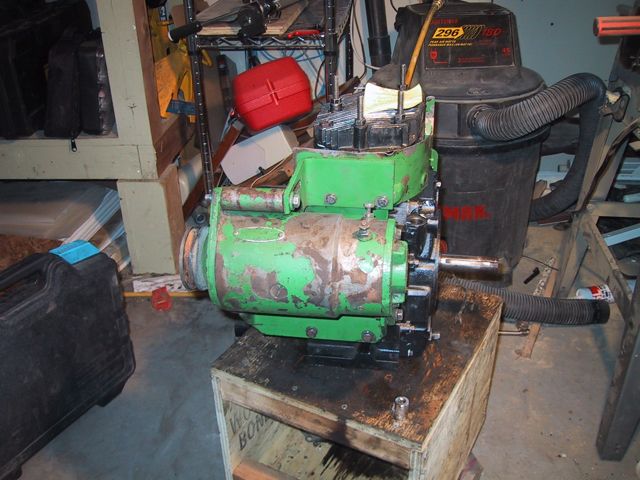 I haven't found a starter-generator pulley yet, so I was forced to put the OLD cruddy broken out one back on so that I could drop the tin on and get the belt on…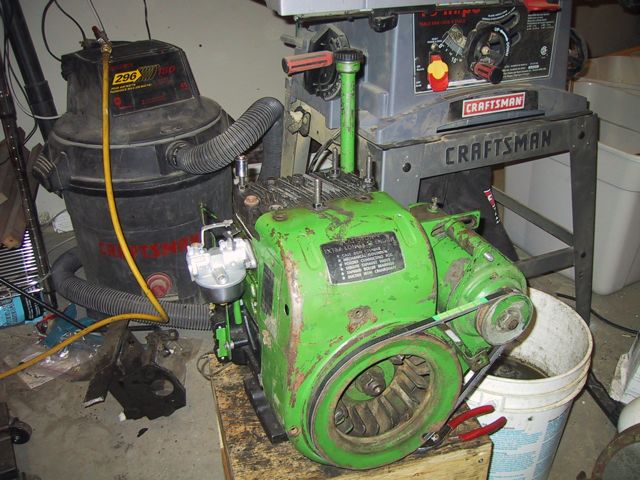 That was all Sunday and Monday/Thanksgiving Day…
Segue to Tuesday night/Wednesday morning, Kidlet #1 wants to get more work done on her Halloween costume, so I went out with the plumbing to use the rotary tool and the bench grinder…
Here's the plumbing she and her friend wanted…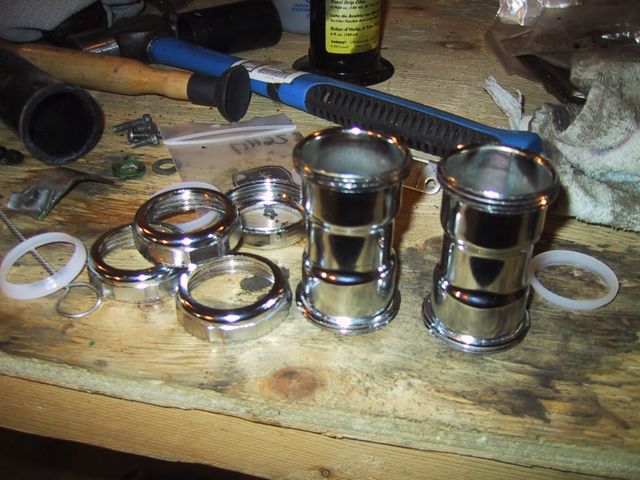 Marking the half-way point on one of them,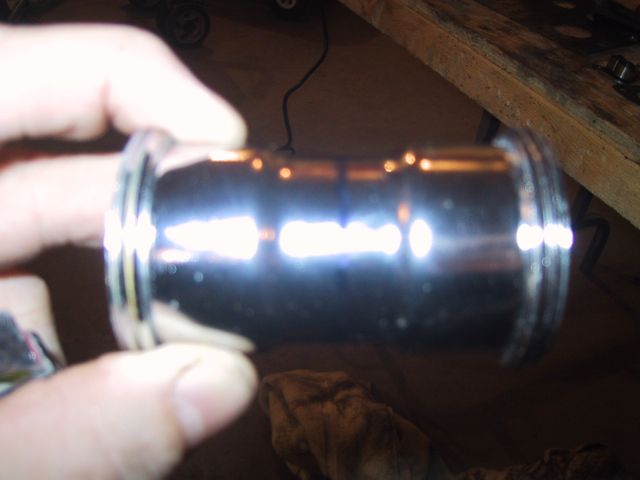 Cutting it apart! DANG ya sure go through a lot of those teeny cut-off wheels, eh? Thank goodness for safety goggles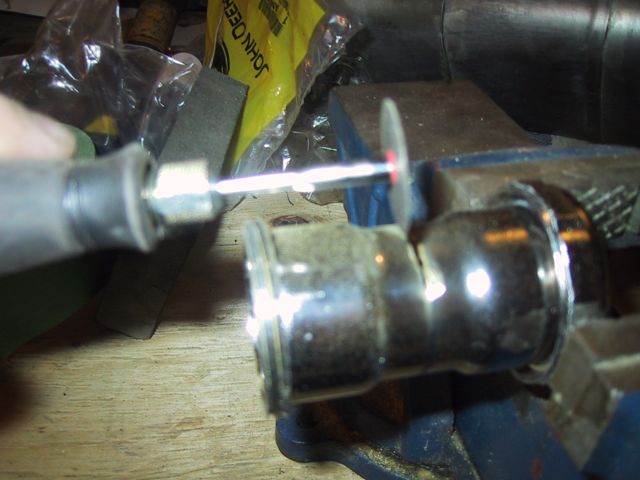 After I'd cut them, bench-ground them smooth with the new bench grinder (yay!) then sanded the rougher bits with the rotary tool… here they are…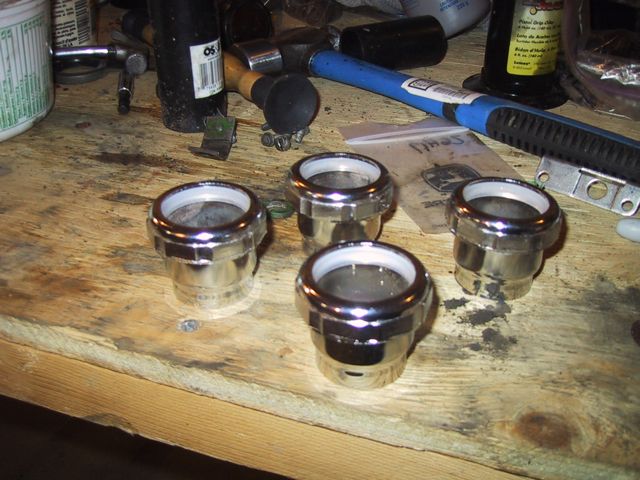 Anyone want to guess what they're gonna turn out to be?
We now return you to your regularly scheduled tractor programming!
Since I wasn't tired YET, I thought I'd pop the engine back into its home…
I KNEW there was a good reason I bought this! Since I couldn't LIFT the bloody engine with the flywheel and generator on it, the motorcycle lift and a couple of boards for sliding the motor along worked SLICK…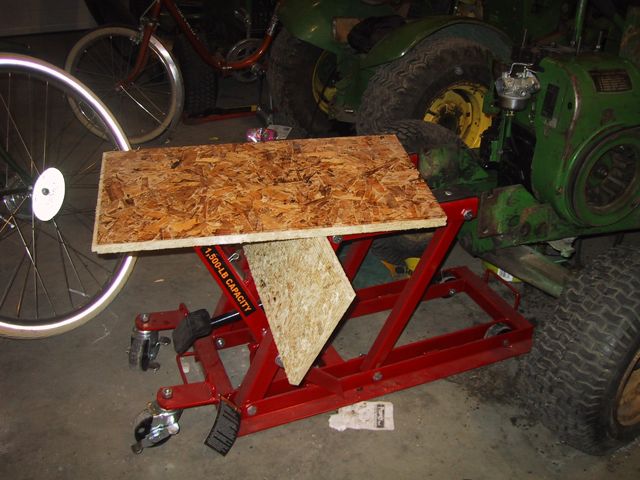 And….. ALMOST home free! Just have to remember to bolt it in!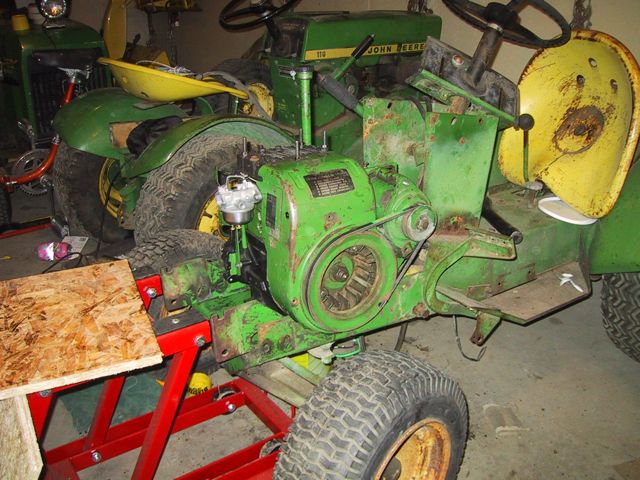 (well, and get the air cleaner on… and the gas tank hooked up… and the oil plug back in… Oh, and get some oil into it… and hook up the electrical… Other than that, and a complete cosmetic restore, I'm almost done! 
 )