Well, in hopes that spring will EVENTUALLY arrive here, LTGal and I embarked upon the first stages of developing the Mark II Electrolysis tank… Which were to secure a more suitable, well, tank! So, off to Canadian tire we went, this morning!

(Who are we kidding?!? We were trying to escape cabin fever!)

So, while we WERE intending just to go and take measurements of the different plastic bins that were available there, we happened across THIS in the clearance aisle!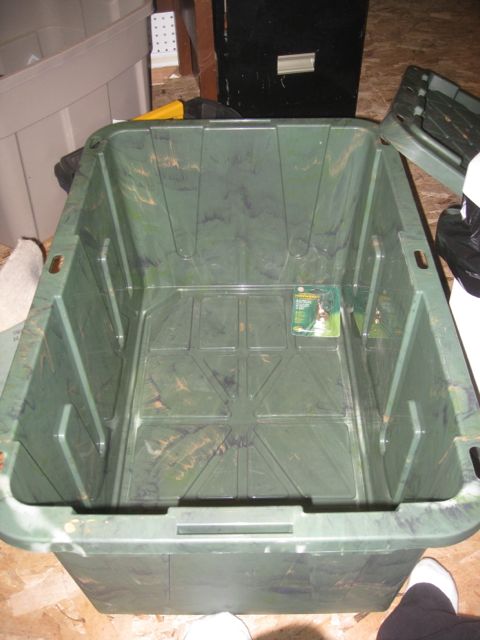 And not only was it on sale, it was made of relatively substantial plastic AND (according to an unnamed source) already an icky colour so we didn't have to worry about it getting even ickier! 


It's both longer and wider than the Mark I tank, but shorter. However, its only about an inch and a half shorter…



and since the Mark I tank had the electrodes bolted through the plastic I was losing the top 2-3 inches of the tank anyway unless I wanted to have the electrodes totally submerged… which made them icky! So, plan THIS time is to come up with some way, NOT involving welding, to create electrode holders that can dangle over the edges of the tank…. Some bolts, nuts and spacers will likely be in order. The advantage of this approach, of course, is that then I can bore holes in BOTH ends of the electrodes and flip them around as one end gets used up…
Well, the Mark II is shaping up nicely…



Last step is to bore a hole and mount a drain in it with some silicone and a chunk of cork for backing.



This oughta do it.

Kudos to Boyd on MTF, whose adjustable shelves using threaded rod inspired me to use rod for my hangar/cathode…